BOATERS BLOG
Hurricane Matthew will hammer parts of eastern Florida and other parts of the Southeast coast starting Thursday and continuing into the weekend.
As illustrated by the National Hurricane Center's (NHC) projected path map, and also explained below, the severity of any direct impacts will depend on how close the center of Matthew moves near the coast.
An important point to make is that landfall does NOT need to take place for the worst impacts to come ashore. The strongest winds and most drilling surge will come to the coast in the eye wall, which surrounds the eye. Landfall occurs when the calmest portion of the eye, or the center, comes ashore. Hurricane conditions could come ashore even if the center stays 20 to 30 miles offshore.
All interests from Florida to coastal Georgia and the Carolina's should continue to monitor the forecast closely and make necessary preparations for a hurricane. Those in eastern Florida should make those preparations as soon as possible.
Here is the latest on what we know about Matthew right now in terms of U.S. impacts.
1. Timing For Matthew
As far as timing for any impacts along the Southeast coast, here is a general overview. The NHC forecast calls for Matthew to be a strong hurricane during this timeframe.
Florida Peninsula (particularly eastern Florida): Late Day Thursday-Friday, possibly lingering into early Saturday in northeast Florida.
Southeast Georgia: Friday-Saturday.
Eastern Carolinas: Later Friday-Saturday, possibly continuing into Sunday.
2. Battering Waves, Coastal Flooding, Beach Erosion Likely
No matter how close the center of Matthew passes in relation to the Southeast coast, we expect major marine impacts.
Matthew will generate large, battering waves along the entire coastline Thursday into the weekend. Mariners and beach goers are encouraged to stay out of the water given this danger.
Forecast Waves From Matthew
Significant coastal flooding is also likely along the path of Matthew from Florida into the Carolinas. The magnitude of any inundation will be dictated by the exact path Matthew takes.
Furthermore, the threat for major, damaging storm surge flooding is in play should the center of Matthew make landfall or move right along the immediate coast. Locations from Florida's east coast to coastal Georgia and coastal South Carolina are at risk for this possibility, though this is still uncertain.
Storm surge inundation forecast.
Here is how high the water could reach during this life-threatening inundation if the peak surge coincides with high tide, according to the National Hurricane Center:
Sebastian Inlet, Florida to the Savannah River, Georgia: 6 to 9 feet above ground level
Deerfield Beach, Florida to the Sebastian Inlet, Florida: 3 to 5 feet above ground level
Savannah River, Georgia to South Santee River, South Carolina: 3 to 5 feet above ground level
Virginia Key, Florida to Deerfield Beach, Florida: 1 to 2 feet above ground level
Of course, beach erosion is a given with all those factors above playing out.
If you live along the immediate coast, stay informed and have a plan to evacuate should you be instructed to do so.
3. Tropical-Storm-Force and Hurricane-Force Winds Likely
Hurricane-force winds (74+ mph) are highly possible along Florida's east coast starting Thursday night, and potentially north of there in coastal parts of Georgia and the Carolinas Friday into Saturday.
This will particularly be the case if Matthew's eyewall grinds along the Southeast coast or even makes landfall, again anywhere from Florida's east coast and points northward from there.
Hourly Wind Gust Forecast
At this time, the National Hurricane Center has the greatest chance of hurricane-force winds right along Florida's east coast. Those damaging winds are likely to occur no matter whether the center of Matthew makes landfall or stays just offshore. The exact strength of the winds will depend on how close the eyewall passes to the coast.
Structural wind damage will be possible along with downed trees and widespread power outages in areas where hurricane-force winds occur. Matthew is forecast to be a major hurricane (Category 3 or stronger) when it moves near Florida's east coast, so extreme wind damage cannot be ruled out. Once again, that will depend on the exact path of the eyewall.
Should the center of Matthew ride right along the coast of Florida, hurricane-force winds could occur as far inland as Lake Okeechobee and the Orlando area in Florida.
(MORE: Impact Differences When a Hurricane Parallels the Coast Instead of Making Landfall)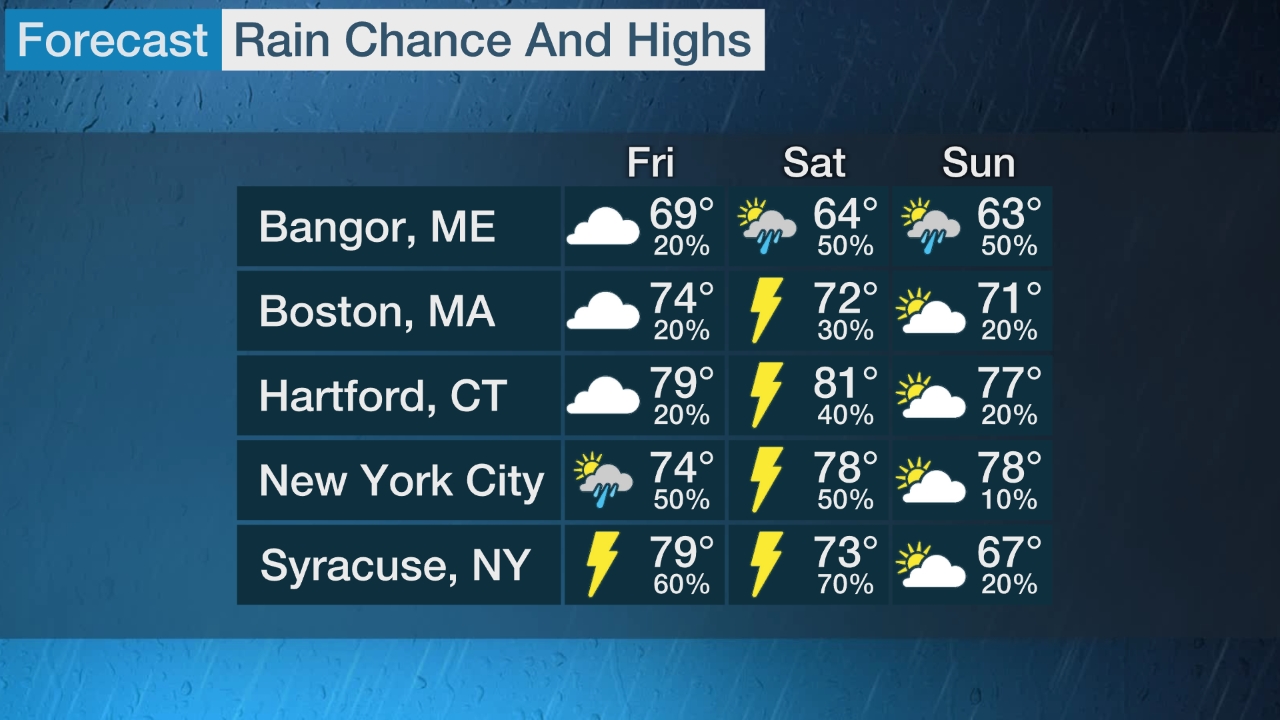 The potential for tropical storm-force winds (39 mph+) will encompass a larger part of Florida as well as southeast Georgia and the coastal Carolinas. These winds could expand all the way to the Gulf of Mexico.
How strong those winds are in any one location will depend on where the center of Matthew tracks in relation to the Southeast coast.
(FORECAST: Charleston | Jacksonville | Miami | Wilmington)
Even tropical storm-force winds could down trees and knock out power.
4. Rainfall Flooding, Tornadoes
Two other threats we will have to watch for from Matthew are the potential for rainfall flooding and tornadoes.
Once again, Matthew's track in relation to the U.S. coast will dictate the magnitude of any heavy rainfall impacts, possibly resulting in flooding. The heaviest rainfall totals, possibly ranging between 5-12 inches, are likely to be confined to the immediate coast, from Florida to the North Carolina. There is a potential for even heavier rainfall if Matthew makes landfall.
In areas where coastal flooding occurs, the heavy rainfall could make flooding worse or prevent water from receding.
An isolated tornado threat could also develop on the Southeast coast, particularly if Matthew makes landfall.
5. Matthew May Circle Off Southeast Coast Instead of Impacting Northeast States
In recent days, forecast guidance had suggested Matthew would eventually get pulled northeastward by a jet stream dip and potentially impact the Northeast states along with Atlantic Canada. This no longer appears to be the most likely scenario.
Instead, that jet stream dip may leave Matthew behind. This would result in Matthew pushing southeastward away from the coastal Carolinas on Sunday.
It's possible Matthew could then meander off the Southeast coast into early next week, or even move back toward Florida, but details on this are very uncertain at this time. Stay tuned.